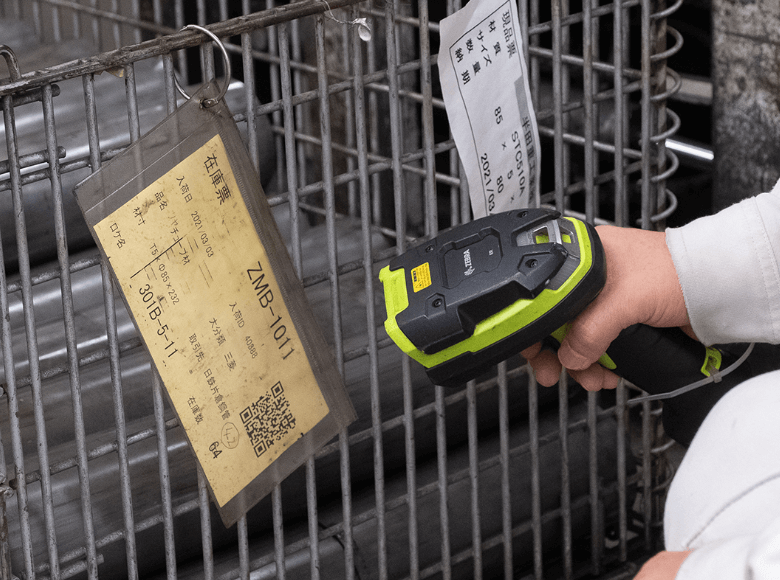 HANJU-Product
Inventory Control Systems
Streamlining warehouse processing with a completely computerized solution for complex inventory control that includes free location support
・Planning, development, and sale of inventory control systems
Are you grappling with inventory control issues like these?
◎ It takes time to go to the warehouse every time the worker in charge of order placement needs to check inventory.
◎ Quantities of actual inventory don't match the inventory list due to the vague nature of the process.
◎ Inventory is disorganized, and it's not clear where products are located.
◎ The complex nature of your inventory control process makes it impossible to use standard management software.
Slashing management losses by computerizing inventory control
By computerizing inventory information, you can check inventory in real time and quickly accommodate orders from production sites. Systems can also be customized for complex item management, for example partial-lot shipments and partial returns of previously removed items, to further streamline operations.
▲ Management screen
Characteristics
◆ Support for customization to meet fine-grained needs

Our systems can be customized to meet needs that standard inventory control systems can't accommodate. Consult us for more information about management that involves complex mechanisms such as re-processing previously shipped items back into inventory.

◆ Dramatically faster inventory-taking

By using QR Codes to manage item information, you can check inventory quantities on a computer screen. This capability frees you from the time-consuming need to take inventory of heavy items and otherwise count items.

◆ Instantaneous assessment of inventory locations

Inventory location information can also be managed in data. Find the inventory you need with pinpoint accuracy. Our systems realize speedy warehouse shipping and receiving.

◆ High cost-performance

We're able to sell these systems at low cost because we customize our own, original technologies. And since they support standard computers and tablets, you won't need to purchase additional, dedicated hardware.
■ System diagram